Push / Pull / Suspend: Shibari Endurance Performance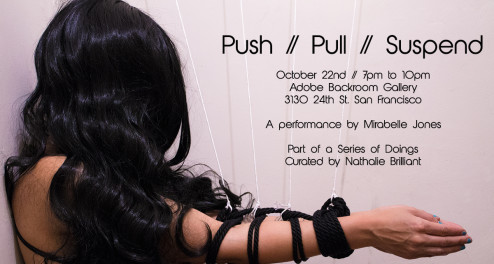 This performance interrogates the relationship between stability, individuality, queerness, status, and the flexibility and stamina necessary to maintain these within the context of the collective.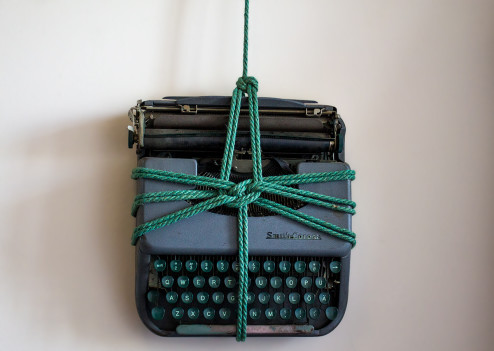 In one corner of the room, the artist will remain bound in shibari / kinbaku for a period of three hours as an anchor point. Suspended from her will be a number of objects representative of the social / psychic / emotional / spiritual / poetic / and other ties which establish her identity. Visitors are invited to add to the installation by tying and attaching a number of provided objects with the assistance of trained riggers and knot enthusiasts, shifting the tension and weight placed on the artist with every added object. A small library of feminist, bookbinding, shibari, climbing, and survivalist texts will be provided for inspiration, exploration, and self-therapy.

Facebook RSVP: https://www.facebook.com/events/1493572160938363/
About the Artist
Mirabelle Jones is a performance and installation artist, a sexual assault and domestic violence victim's advocate, a bookbinder, a writer, a good witch, an art cult leader, and a queer mob boss. She possesses an MFA in Book Art & Creative Writing from Mills College and a BA in Language Arts from the University of California, Santa Cruz. She currently resides in sunny, sassy Los Angeles, CA but remains forever bound to her roots in the Bay Area. You can see more of her life's experiments at MirabelleJones.com
Images & Flyers For Press Use
Images