Push / Pull / Suspend
Push, Pull, Suspend (2015)
3 Hour Durational Performance
Adobe Backroom Gallery, San Francisco
Push / Pull / Suspend took place at the Adobe Backroom Gallery in San Francisco in October 2015 as part of a series of performances curated by Nathalie Elisabeth Brilliant. This performance explored individual growth in relation to objects and people through an endurance-based, 3-hour collaborative installation based on the pressures of psychophysiological forces.

At the start of the performance, I was shibari-bound head to toe in one corner of the gallery. In the style of Duchamp's 16 Miles of String which made playful use of interrupting the gallery space as a communal, performative, and public act, a length of heavy load-bearing tarred mason line was attached to 9 specific points of my body along the sagittal plane creating a "web" across one half of the gallery.

With the help of knowledgeable knot-tying assistants, visitors were invited to bind and attach certain objects bearing sentimental value to these lines. These objects included: a hat my ex and I maintained joint custody of across 3 continents and 5 years, a jar containing my multi-colored hair at 16 different points in my  lifetime, a mannequin matching my body shape which has performed as a stand-in throughout numerous art projects and exhibitions, a photograph of my mother and I (age 2) at the Oakland zoo pointing at goats, and many more.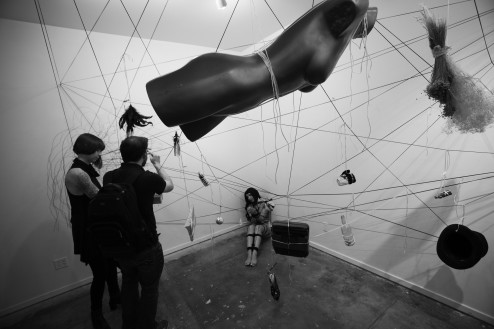 In this manner, visitors created an interactive installation in relation to myself and the objects I've collected over time as a consequence of life, an interactive portrait of a human being in relation to collected emotionally "weighted" ephemera, a biography suspended in physical space, an homage to the art of being a moving, enduring, biological object enacted through the simplicity of these three basic actions of force: push, pull, and suspense.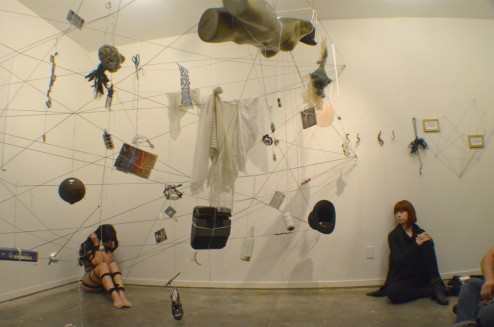 Photos by Matt Haber:
Photos by Chris Warfield:
Photos by Tim Guydish:
Special Thanks To: Nathalie Elisabeth Brilliant and the Adobe Books Backroom Gallery
Sound by Ioe Key: https://soundcloud.com/key
Shibari design by: Yzen Deshi
Photography by: Matt Haber, Tim Guydish, Chris Warfield, Evo Henning
Knot-Tying Enthusiasts & Assistants: Bella Donna, Crutcher Dunnavant, Lola McCall, Laura White-Avian, Ioe Key, Katy Pelton + Todd Huffman, Eriko
More info. on the works of Marcel DuChamp can be found on Artsy.
Photo by Evo Heyning: