JARRING III: Artists' Books to End the Silence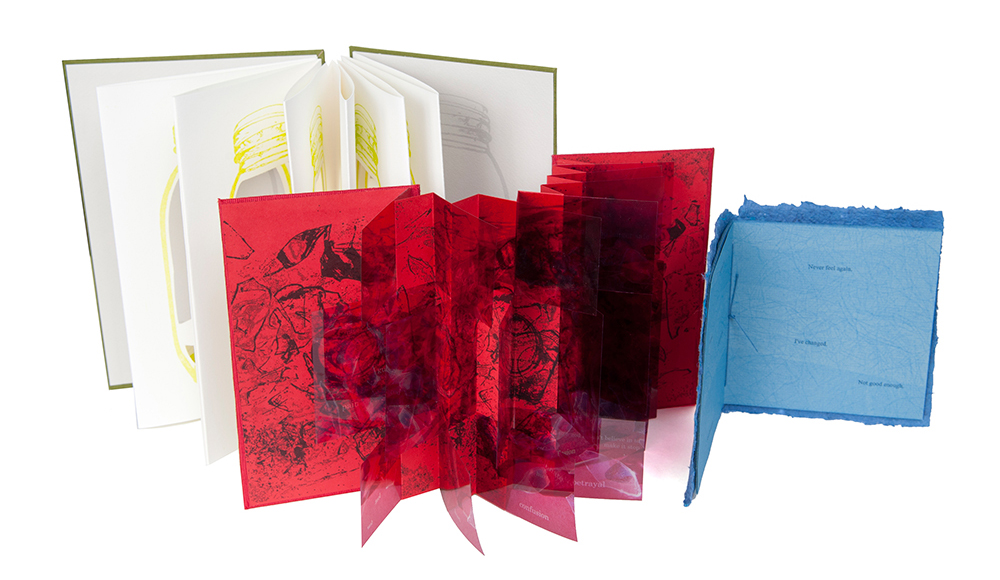 "Through 150 artistic books in three designs, each of which tells the tremendously varied stories of real survivors, Jones is showing what the problem really looks like — not from the perspective of the news media, but straight from the victims themselves." –Bustle
JARRING III is a set of three artists' books in an edition of 50 by artist Mirabelle Jones (MFA Book Art & Creative Writing Mills College) that seek to raise awareness and support resources for survivors of sexual assault by sharing the true narratives of sexual assault survivors. Each of the three books shares one stage in the collected experiences of 22 survivors of sexual assault in an effort to raise awareness, provide an archive for research, and raise funds for survivor resources such as hotlines, advocacy groups, and regional rape crisis centers.
April 19th .:. Visiting Artist .:. Maryland Institute College of the Arts, MD .:. Sexual Assault Awareness Month
April 24th .:. Visiting Artist .:. Syracuse University, NY .:. Sexual Assault Awareness Month
April 26th .:. Visiting Artist .:. Rhode Island School of Design, RI .:. Sexual Assault Awareness Month
Want Art Against Assault to visit you? Email us!
October 7th .:. American Printing History Association Conference .:. The Huntington Library .:. Book Fair
April 4th .:. Maryland Institute of the Art, Baltimore .:. Visiting Artist SAAM Presentation + Q&A
April 6th & 7th .:. Mills College, Oakland .:. Visiting Artist SAAM Presentation .:. Guest Lecturer Book Art
April 20th .:. School of the Art Institute, Chicago .:. Visiting Artist SAAM Presentation
April 20th .:. PACE University, New York .:. Artivism presents 2nd Annual SAAM Show (Artist Not Present)
AWARDS & PRESS 
This project has received awards from the College Book Arts Association and the Pollination Project and been heralded by the Huffington Post, Bustle, Women's Studio Workshop, Feminist Magazine, and Bookbinding Now.
Collections
University of North Texas
Willis Library Rare Book Collections
Collection Information: http://www.library.unt.edu/special-collections
School of the Art Institute of Chicago
Joan Flasch Artists' Book Collection
Archive Online: http://digital-libraries.saic.edu/cdm/singleitem/collection/jfabc/id/8531/rec/1
UC Berkeley 
Bancroft Library Special Collections
Collection Information: http://www.lib.berkeley.edu/libraries/bancroft-library/collections
Previous Exhibitions:
Craft Alliance Center of Art and Design
Make Shift
6640 Delmar Blvd. St Louis, MO
01.13.17 – 02.26.17
San Francisco Center for the Book
20 / 20 Vision
375 Rhode Island St. San Francisco, CA
July 30th – October 16th 2016
ABOUT THE BOOKS
Book One: is an archival letterpress-printed, laser cut accordion artists' book printed during a letterpress studio arts residency at Women's Studio Workshop in Rosendale, NY. The book uses 11 handset type faces from the studio's historically-rich collection to present a variety of voices. The book expresses, in each survivor's own words, the beginning of each survivor's experience. The book is laser cut to give the illusion of slips of paper floating inside a jar with seemingly endless depth. Looking at the book straight on, the stories begin to build, filling the jar both visually and conceptually. The sculptural format of the book makes reference not only to the appalling frequency of rape (in the USA, someone is sexually assaulted every 107 seconds) but also the complications which arise from viewing sexual assault as a body of statistics versus a collection of interconnected individual experiences that share similarities and differences that reveal opportunities for advocacy. The book's laser cut layout was tested at 3-Scan Labs in San Francisco and the final cutting performed at Crashspace in Los Angeles. The book is bound in green Brillianta book cloth covered boards and stored in a slipcase. Colophon on end paper.
Book Two: uses the flag book structure developed by Hedi Kyle, where slips of paper jut across each other to create the impression of multiple, layered voices passing over and through one another. The book contains words and phrases in the survivors' own words describing the assault itself. The book is printed on archival quality translucent photo papers embodying transparent text and imagery of a broken jar. A letterpress printed spine and end papers printed at LALA Press with a hard cover of Asahi book cloth covered boards complete the book's layers of graphic images, transparency, and texture. Colophon on back cover.
Book Three: is a codex hand-bound book with a handmade paper cover containing raw silk and blue glass inclusions (sealed for archival and handling purposes). The pages, letterpress printed at KALA Arts Institute, juxtapose pressure prints and type to convey the thoughts and reflections of each survivor at the time they submitted their narrative. Each book is three-hole stitch bound by hand with blue wax thread. Colophon inside back cover.
Benefiting Universities and Rape Crisis Centers
This set of three books housed inside protective slipcases is available to your college or University for a donation to your local Rape Crisis Center or a national sexual assault survivor resource such as RAINN.org. No profits from this project will be taken by the artist. Please email to discuss appropriate donation amount, shipping information, and receive a list of survivor resources who accept donations in your area. By purchasing a set of books, your university can not only show its support for sexual assault survivor resources, but also support students for whom JARRING III may serve as a resource for many areas of study including: book arts, studio art, printmaking, paper making, fiber arts, psychology, psychiatry, sociology, law, social work, counseling, nursing, sexual education, and more.
TO PURCHASE OR FOR GUEST SPEAKER INQUIRIES: Please email Mirabelle Jones at MirabelleJones (at) Gmail (dot) com
2017 ART AGAINST ASSAULT BOOK TOUR: April is Sexual Assault Awareness month! During this month, Mirabelle in conjunction with Art Against Assault will be embarking on a book tour for the JARRING III books throughout the United States. The tour will include working with academic institutions, arts organizations, and survivor resource centers to provide workshops, lectures, and reading room experiences that raise awareness and discourse about sexual assault. Please see the tour information page for more on how you and your organization can get involved!