Survivor Manual
Survivor Manual is a freely distributed zine intended for survivors of sexual assault and their allies that shares important resources related to sexual assault and rape with a focus on California-relevant*, current information. Content includes a definition of sexual assault and related terminology, a discussion of myths vs. realities re: rape, a discussion of legislation (incl. criminal court vs. civil court), how to make a police report and take a SART exam, suggestions re: recovery / counseling / and self-care, avenues for empowerment and combating rape culture, a list of state-specific resources, and more.
SPONSOR THIS PROJECT ON PATREON OR JOIN MY MAILING LIST FOR INFO!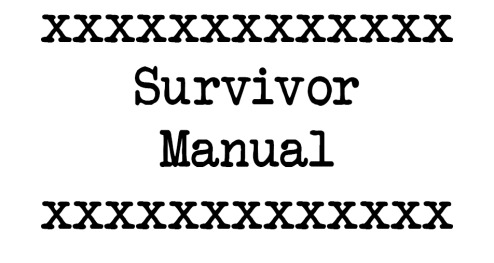 For Survivors, By Survivors
This zine is written for survivors by survivors, and is influenced by my experience working as a CA-certified sexual assault and domestic violence advocate in California.
FREE to the Public
These zines will be deployed at no cost to the reader in locations where they may be helpful to survivors of sexual assault and serve as an educational tool for the general public. Locations for distribution may include: community centers, college campuses, women's shelters, and more. Suggestions for where they may be of immediate use are greatly appreciated!
FREE to Copy
The zine is set to debut and be freely distributed at Los Angeles Zine Fest on February 15, 2015. This zine is 100% copyable when unbound, and free to re-publish and re-distribute. A zine template will be made available online at the Art Against Assault website should individuals wish to print and distribute their own copies.
*Why Just CA? The CA-specific version will include content relevant to all states, although state-specific information such as descriptions of legislation and resources may not apply outside of CA. Once the CA-specific version is complete, I hope to make a more generalized US version as well as state-specific versions for other states.
Breakdown of Costs:
I want to be clear that this zine will be produced whether or not I reach my funding goal, even if I have to pay for it out of pocket. Your support is an opportunity to show your enthusiasm for this project and to sponsor a set of zines for distribution to those who need them! Thank you!
Cost Breakdown:
Printing Costs: $100.00 (50 cents per zine = 200 zines! I will print 1 more for each additional 50 cents I receive over my goal!)
Paper Costs: $50.00 (I will try my best to source 100% post-consumer recycled paper for this project.)