micro erotica
MICRO EROTICA is an erotic art mag the likes of which the world has never seen… without a magnifying glass! This first issue is a 1″ x 1″ accordion fold erotic art book with magnifying glass curated by Mirabelle Jones and Michelle Fugate and containing the photographs, collages, and art works of over 30 artists! All proceeds from the sale of the book go towards Make Love Not Porn, a website dedicated to educating the public about the important differences between the sex depicted in produced pornography and real life sexuality. You may purchase a copy of the project via paypal or by clicking below!
Purchase Here: $15.00 all proceeds benefit MakeLoveNotPorn.com – an educational website that is pro consensual sex!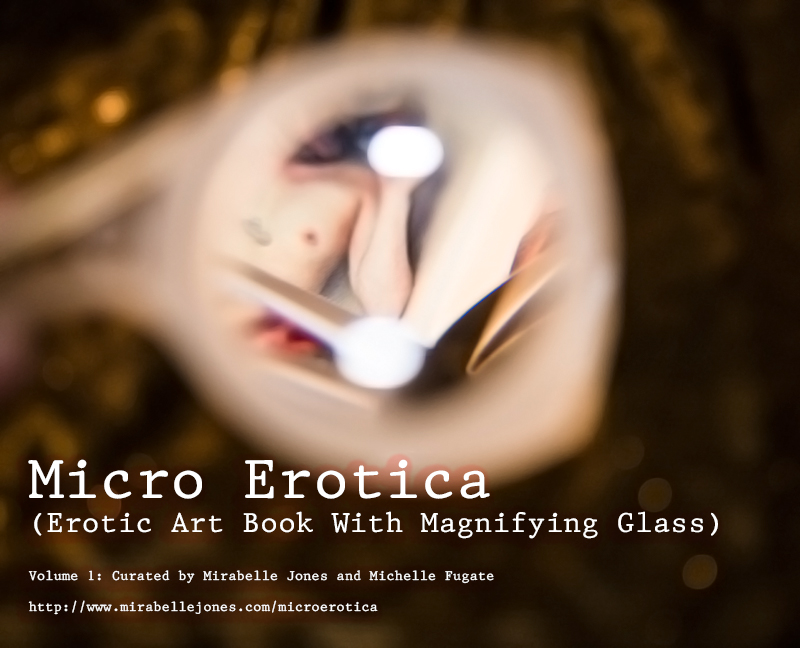 Tiny + Erotic
Each tiny zine comes with a magnifying glass through which interesting details which might have otherwise gone unnoticed are brought into focus! There is a voyeuristic element to this scenario combined with the concept of the miniature which has an endearing, secretive quality.
After coming up with this idea independently, we realized that miniature porno was actually a thing back in Victorian times. Check it out: http://io9.com/back-when-the-victorians-used-microscopic-photography-t-1667035803
Erotic Art Vs. Popular Pornography
What kinds of images does micro erotica contain? What do we mean by erotic art? The images we've selected for this edition are erotic photography or collage which embrace the intersection of art and pornography, which are bizarre or strange in addition to sexy, and which translate well to small scale. We are especially interested in images that are surreal, have lots of interesting foreground details, that are on the high art end of sexy (the traditional pin up girl in lingerie on a frilly bed probably does not qualify unless maybe she is covered in red glittery lipstick, donuts, and wearing a pigeon mask made of spoons). We've tried to highlight erotic artists who go beyond typical depictions of sexuality, challenging assumptions of male dominance and female submission as well as gender and power dichotomies in general. Mainstream porn is pretty bad at recognizing the sex appeal of consent and has a tendency to promote images that are degrading to a given party. In opposition to this, we've tried to feature images that highlight underrepresented or nuanced aspects of sexual diversity that defy the m / f, top / bottom dichotomy and assumptions of gender binaries.
ARTISTS FEATURED IN VOLUME 1:
Matt Haber, Jessica Buckley, Rickie + Allan Amato, Sarah Sitkin, Raymond Gainey, Rachel Rector, Thea Juliette Stevenson, Kari Alison Hodge and Maya Flanary, Augusta Gail Wise, Jin N Tonic + Cinephotography, Myriad Slits + Meat Glue, Jessica Rabbit + Julia O. Test, Sharona Lagna, Marissa Lynn + Yzen, Daniel Guzman, Jessie + Emi, Mirabelle Jones, Jesse + Zero, Anna Calloway, Aubrey Adams + Alanna Hibbard (Poutfits.com)
CALL FOR ENTRIES- V.2 – HALF THE SIZE TWICE AS EROTIC! We are now accepting entries for Micro Erotica Volume TWO- half the size, TWICE as erotic! Micro Erotica Volume 2 will be curated by artists Mirabelle Jones and Anna Calloway. Proceeds will benefit MakeLoveNotePorn.com- a site dedicated to promoting super hot, real world pornography and consent-based sexual education!
We are accepting works in the following media: photography and collage. We may accept select works of illustration and painting. As the magazine will be .5″ x .5″ (that's just half an inch, by half an inch folks!) we encourage artists to select images which can make an impact even at small scale.
The magazine will come with a magnifying glass, so images with hidden details (not too tiny!) will be favored. We will also give preference to images which promote unique, queer, avant-garde, consent-based, gender bending, and industry defying themes of sensuality. As per usual, we are looking to produce a cohesive set of images and will therefor inevitably need to reject some submissions (no matter how incredible they are) simply because they do not gel with the rest of the volume. In this case, we will retain your contact information for future issues of Micro Erotica! To submit, please send:
your name (the name you'd like to be credited under- can be a pseudonym)
the name of your model if appropriate (the name they'd like to be credited under- can be a pseudonym)
up to FIVE images at 300 DPI in a SQUARE JPG format as attachments to: microerotica@gmail.com. Merci!