JARRING III: Artists' Books to Break the Silence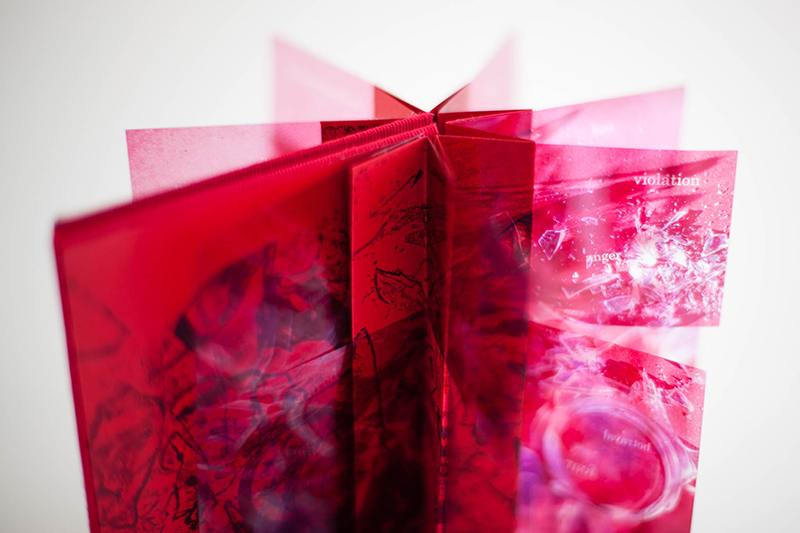 JARRING III (2014)
Set of 3 Artist's Books in an Edition of 50
All profits benefit rape crisis centers and support services
Developed as part of residencies at KALA Arts Institute and Women's Studio Workshop
Jarring III is a set of three letterpress printed & hand-bound artists' books in an edition of 50 that seek to end the silence and stigma surrounding sexual assault and rape by sharing the real narratives of 22 survivors. The goals of the project are as follows: 1) Promote discourse and awareness about sexual assault in our communities. 2) Speak out about sexual assault by sharing the experiences of sexual assault survivors. 3) Create a publicly accessible archive of survivor experiences for research and therapeutic use. 4) Raise funds for Rape Crisis Centers (RCCs) and survivor resources through book sales and donations.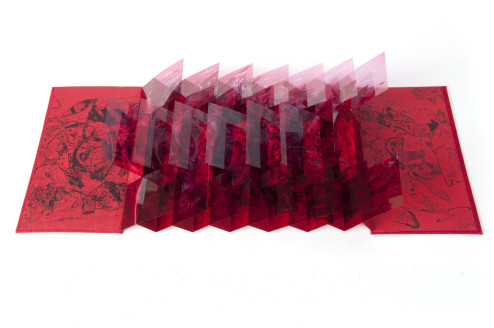 Ending the Stigma & Silence Surrounding Sexual Assault
Despite the pervasiveness of rape and sexual assault in our society, affecting one in six women and one in thirty two men, survivors are shamed and discouraged from speaking out about their experiences. My work as a graduate student in the MFA in Book Art & Creative Writing Program at Mills College encouraged me to pursue the first stages of the JARRING project, a project which would record the narratives of survivors of sexual assault and rape. I began by speaking out about my experience and encouraging others to share their narratives with me. The more I listened, the more I felt strongly that these narratives deserved a place where they could be united and shared with the community, serving as a platform for discussion and a resource for survivors and social justice advocates alike.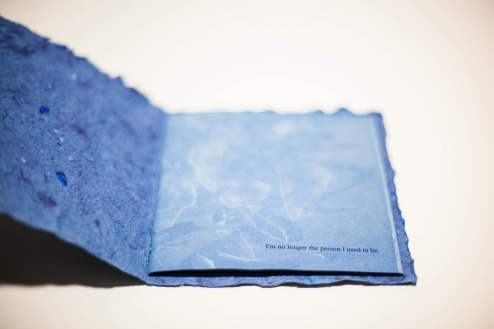 "There is no greater agony than bearing an untold story inside you." -Zora Neale Hurston
EARLY STAGES
I started by breaking the stories down into three parts and storing them in three colored jars (a metaphor for a contained dialogue) to mark each stage of the experience: the green jar held the beginning of each person's experience, however they felt it all began. The red jar stored words and phrases related to the assault. I did not ask the survivor for full sentences, wishing to release the burden of recalling the experience. The blue jar contained each survivor's personal reflections at the time they submitted their narrative. As more stories flooded in, the jars began to take on their own symbolic meaning as containers of a complex and socially repressed discourse, one that is as common, as fragile, as transparent as a jar, but a dialogue which cannot and which should not be contained within the survivor's own consciousness. I set about creating a set of books which would break the silence represented by that container.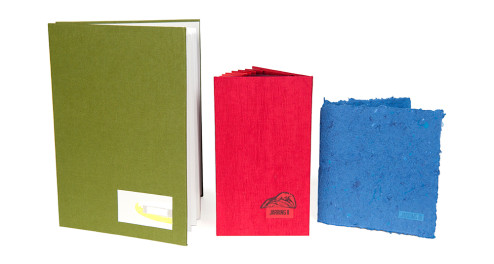 JARRING III: A SET OF 3 ARTISTS' BOOKS IN AN EDITION
In 2013, I decided to create a limited edition, hand-bound and self-printed set of books based on the narratives of JARRING with the goal of creating a publicly accessible archive that would truly honor these stories, building a bridge between private and public discourse. The project entailed making three books in a set of 50, for a total of 150 handmade books.The project would be entitled: JARRING III.
Each book in JARRING III utilizes a different book structure to create a unique experience for the reader that honors the text and experiences represented, embedding the narratives in form, imagery, and movement as well as language.
Book one is an archival letterpress-printed, laser cut accordion artists' book printed during a letterpress studio arts residency at Women's Studio Workshop in Rosendale, NY. The book uses 11 handset type faces from the studio's historically-rich collection to present a variety of voices. The book expresses, in each survivor's own words, the beginning of each survivor's experience. The image of the original jar developed from a photograph into a photo-polymer plate serves as the main artwork. The book is laser cut to give the illusion of slips of paper floating inside a jar with seemingly endless depth. Looking at the book straight on, the stories begin to build, filling the jar both visually and conceptually. The sculptural format of the book makes reference not only to the appalling frequency of rape (an American is sexually assaulted every 107 seconds) but also hints at the complications which arise from viewing sexual assault as a vast, entangled body versus a collection of interconnected individual experiences that share similarities and differences that reveal opportunities for advocacy. The book's laser cut layout was tested at 3-Scan Labs in San Francisco and the final cutting performed at Crashspace in Los Angeles. The book is bound in green Brillianta book cloth covered boards and stored in a slipcase. Colophon on end paper.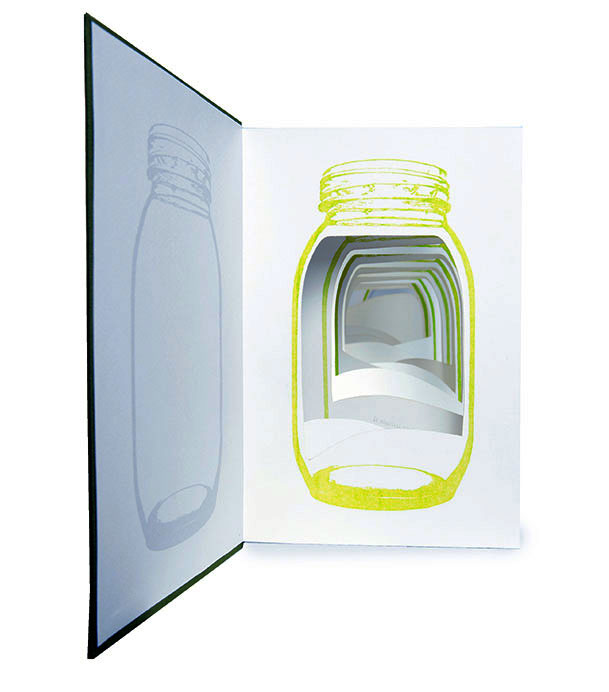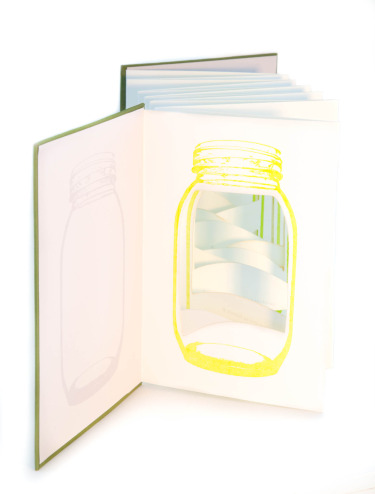 Book two uses the flag book structure developed by Hedi Kyle, where slips of paper jut across each other to create the impression of multiple, layered voices passing over and through each other. The book contains words and phrases in the survivors' own words describing the assault itself. The book is printed on archival quality translucent photo papers embodying transparent text and imagery of a broken jar. A letterpress printed spine and end papers printed at LALA Press with a hard cover of Asahi book cloth covered boards complete the book's layers of graphic images, transparency, and texture. Colophon on back cover.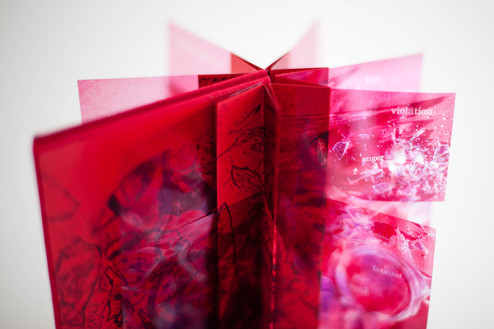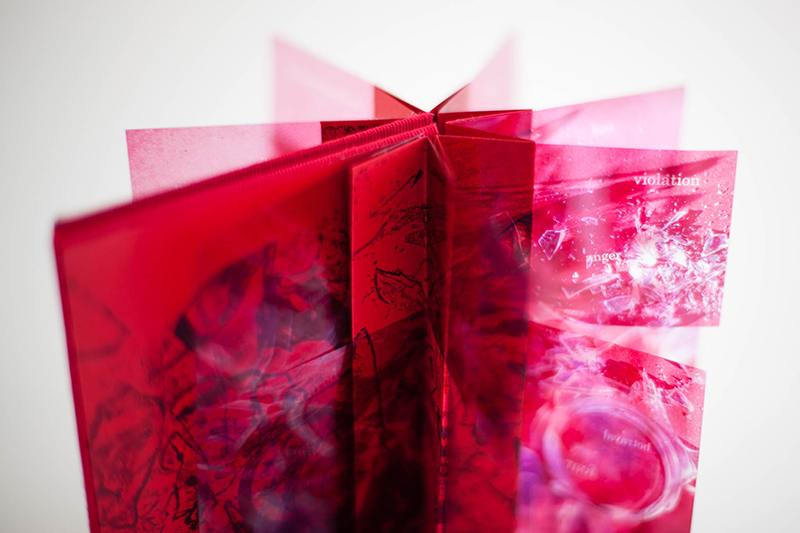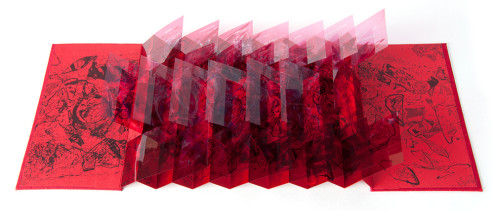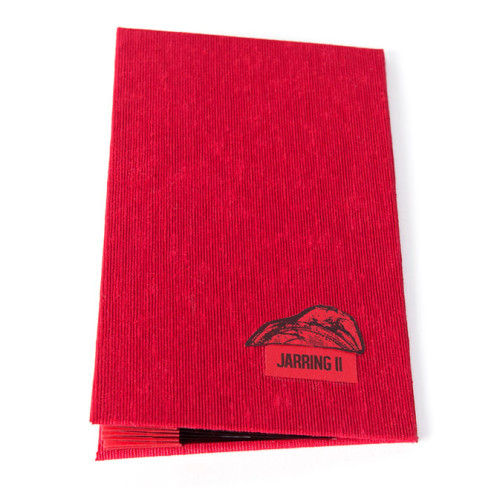 Book three is a codex hand-bound book with a handmade paper cover containing raw silk and blue glass inclusions (sealed for archival and handling purposes). The pages, letterpress printed at KALA Arts Institute, juxtapose pressure prints and type to convey the thoughts and reflections of each survivor at the time they submitted their narrative. Each book is bound by hand with blue wax thread. Colophon on inside of back cover.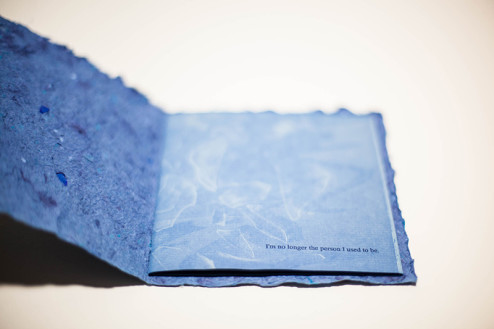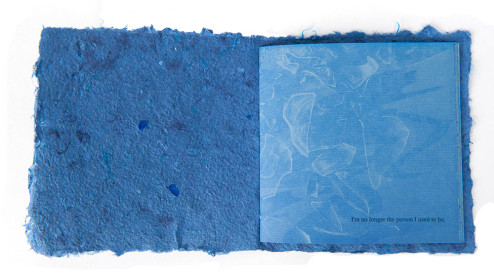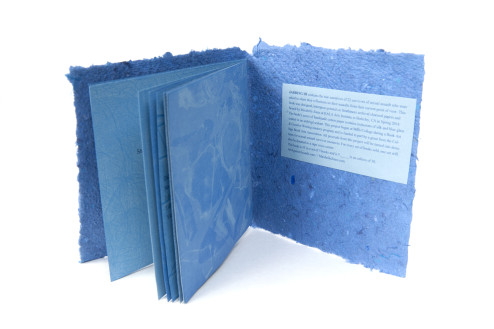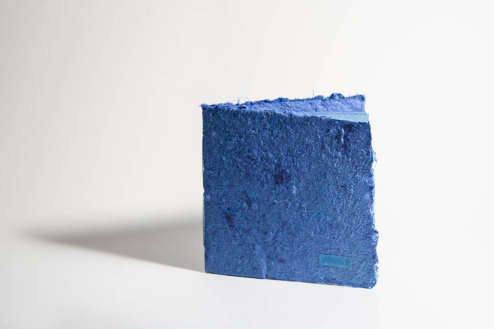 Photos by Alex Brown and Michelle Yoder
RAISING FUNDS FOR CRISIS CENTERS & SPEAKING OUT ABOUT SEXUAL ASSAULT
Now that the books have been printed and their format finalized, the three books will be stored together in a clamshell box and sold to special collections libraries, creating a freely accessible archive of these narratives in one of the places they are most needed: the college campus. There they will serve as a resource for survivors and students with academic interests in social work, book arts, printing and publication, therapy, and sexual assault intervention. All profits from book sales will go towards donations for regional Rape Crisis Centers. The project has the potential to raise over $50,000 for crisis centers through book sales and related fundraisers.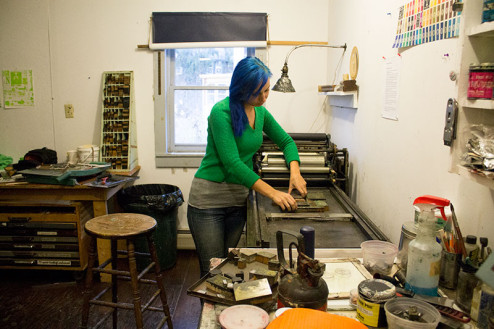 Collections:
Joan Flasch Collection at the College of the Arts in Chicago
UC Berkeley Bancroft Library
Special Collections Library at the University of North Carolina Chapel Hill
Special Collections Library at the University of North Texas
Syracuse University Library
Project Image Gallery:
Photos by: Michelle Yoder
Awards
Press
Get Involved
Press: If you are a journalist or a member of the press who would like to promote the JARRING project through your network, please get in touch via email! I am available for in-person interviews in San Francisco and Los Angeles as well as telephone & email interviews worldwide. Thank you for helping to spread the word about this project.
Survivor Resources and Rape Crisis Centers: If you are interested in becoming involved with the JARRING project as a representative of an RCC or related survivor resource, please contact me. The project may be able to offer you a handling copy of the JARRING books, funding, or an in-person talk or workshop pending an upcoming book tour.
Survivors: If you are a survivor interested in sharing your story in upcoming JARRING projects, you can anonymously submit your narrative at the following website.
Individuals: You can help spread the word about JARRING by sharing the project on your social networks or making a donation through the Art Against Assault site.
With Gratitude to the Following Individuals & Organizations
THANK YOU to the following individuals and organizations who have helped make this project possible:
MY INDIEGOGO SUPPORTERS: Thank you to everyone who contributed to my Indiegogo Campaign! I'm thrilled to say that this campaign reached Indiegogo's front page and met its funding goals with your help!
BOOKBINDING NOW: Thank you to Susan Mills of Bookbinding Now for helping to spread the word about the project! Hear my interview with Susan on the Bookbinding Now website: http://www.bookbindingnow.com/
FEMINIST RADIO: Thank you to Sese Abejon for sharing the project with listeners of Feminist Magazine on KPFK! http://feministmagazine.org/
WOMEN'S STUDIO WORKSHOP: Thank you to Women's Studio Workshop for providing the perfect environment to print the first of the three books for JARRING during a 2013 Letterpress Studio Residency. You can read about the residency and the printing process here: http://www.wsworkshop.org/2014/01/mirabelle-jones-artists-book-activism/
MILLS COLLEGE BOOK ARTS: This project was conceived while completing the MFA in Book Arts & Creative Writing Program at Mills College. Special thank you to Professor Kathleen Walkup, Professor Julie Chen, Studio Manager Lara Durback, and fellow Book Art & Creative Writing MFAs Kat Howard, Kate Robinson, and Rob Borges.
LALA Press: Thank you to LaLa Press for providing letterpress access for book 2.
KALA Arts Institute: Thank you to KALA Arts Institute for providing access to letterpress equipment for book 3.
3-SCAN & CRASHSPACE: Thank you to 3-Scan and Crashspace LA for providing access to laser cutting equipment. Special thanks to Sean Kolk, Katy Pelton, Todd Huffman, Chandra Barnett and Matt Pinner.
THE COLLEGE BOOK ARTS ASSOCIATION: This project funded in part by a grant from the College Book Arts Association. Thank you for supporting recent graduates and current scholars in the field of Book Art: http://www.collegebookart.org/
MINDSHARE LA: This project appeared at the Mindshare LA showcase on 4/23/14.
BAWAR: Thank you to the regional crisis center for the East Bay, Bay Are Women Against Rape for providing survivors of sexual assault and rape with the tools necessary to overcome their trauma.
ELAWC: Thank you to the East LA Women's Center for inviting me to be a part of your efforts to provide a strong resource center for survivors of sexual assault in East Los Angeles and build a better future for our community.
Thank you to the Rape Crisis Centers and Survivor Resource Networks who have helped the project grow since day 1.
Thank you to the 22 anonymous survivors who invited me to share their narratives in JARRING III and to the survivors who continue to share their stories through the Art Against Assault website. It is my hope to continue this project in the years to come, sharing the stories of whoever wishes their voice to be heard through performances and visual art. If you are a survivor and would like to be involved in an upcoming instance of the JARRING project, you can submit your story through the original site here.