Undead Business Lunch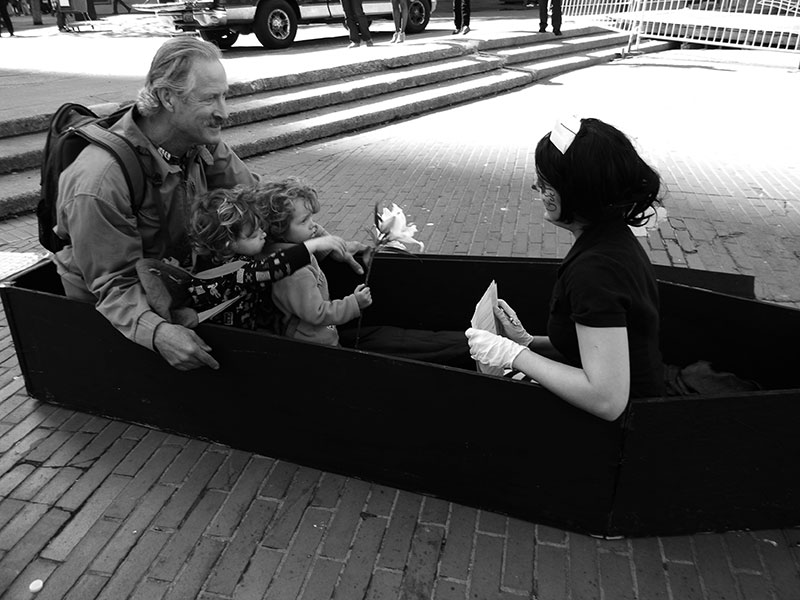 Undead Business Lunch (2012)
Public Art, Participatory Art
San Francisco, CA
During the Day of the Dead, the Mission District in San Francisco comes alive with celebration while those in the Financial District continue in their day-to-day jobs as if it were any other day. In opposition to this, 6 infernal nurses armed with clipboards and complicated medical questionnaires took to the streets surrounding Justin Herman Plaza to interview the living for "intake." Subjects were interviewed regarding their potentially unhealthy habits, life-threatening hobbies, and overall general dissatisfaction with the way their life was going. Based on their answers, subjects were issued death certificates and provided a burial in one of three full-sized ominously painted black coffins for a time of their choosing while the nurses laid lilies and sprinkled dirt over their temporary graves. Over 50 human souls were laid to rest to rise again with new hope for a better, more cherished life.
Performance Organized
by Mirabelle Jones
Coffins designed and built by Mirabelle, Cyprus Gonzales, and Michelle Fugate
Infernal Nurses: Michelle Fugate, Dax Tran-Caffe, Julia O. Test, Mirabelle, Rubin Rodriguez, Carmela Dulanas.
Death Certificates designed by Rebeka Skela.
Special thanks to Amelinda Lew for allowing me to screw 3 coffins to the roof of her van for transportation over the Bay Bridge.
Performance Date: November 2nd, 2012