What It's Like To Be A Woman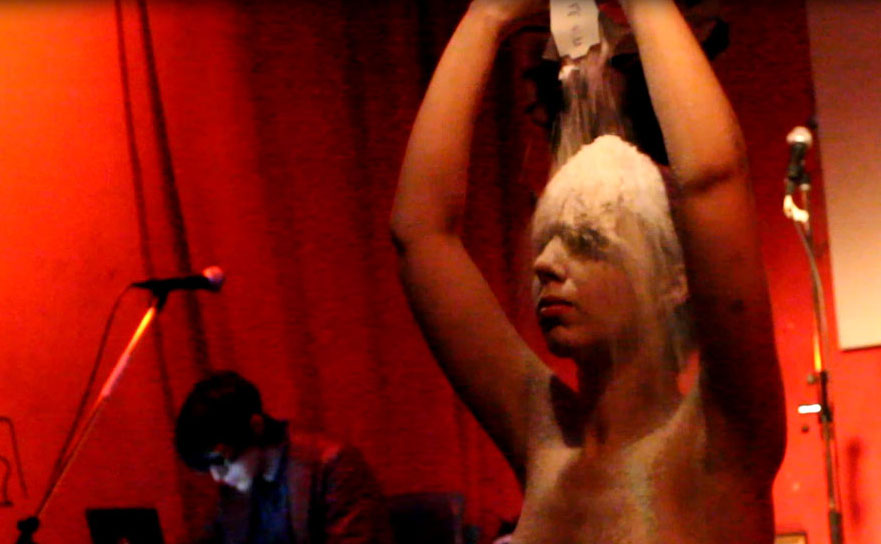 One day while living in Berlin, I overheard one woman say to another, "that's exactly what it's like to be a woman. It's like stripping naked and writing 'fuck me' on your chest, then having to wander around and no matter what anyone says to you smile and say thank you." What resulted was this performance which took place at the King Kong Club. Prior to the performance, the audience was asked to write down the most horrid comments they had heard directed at any woman in a public space. These comments were collected and placed into a boot. I emerged for the performance wearing nothing but a sheet which I soon shed to reveal my naked body hidden briefly below a sign bearing the title of the piece, "What It's Like To Be A Woman." I proceeded to pour 24 oz. (that's 4 packages) of powdered sugar over my body. I then covered my lips in red lipstick and used the same lipstick to scrawl "Fuck Me" across my chest. I wandered throughout the crowd, handing each member of the audience the boot and inviting each to read one of the anonymously submitted insults to me over the microphone as I stood naked and at an intimate distance. After each insult was read to me, I replied with the words "thank you" and a smile, then proceeded to the next person. Want to know what was said? Listen to the audio here.
Performance at The King Kong Club in Berlin, Germany.
"What It's Like To Be A Woman"
Performance by Mirabelle Jones. Audio by Sean Brady.
Ingredients: powdered sugar, red lipstick, the female nude, a leather boot, audience insults.
Special thanks to Lady Gaby.