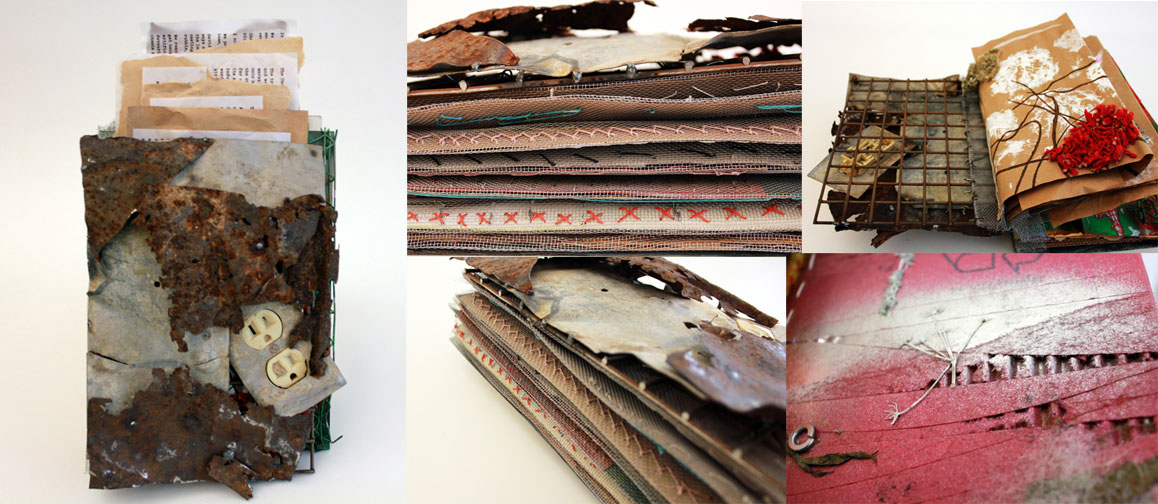 The Bulb is an artist's book composed of found materials welded, manipulated, and re-constructed to create both a sculptural and literary portrait of a geographical space. The Albany Bulb, a former landfill located at the "bulb" of the bay in Albany, CA, has provided complications for government officials since it was first used as a bay-side construction dump site in 1939. As the city remains to this day unsure of how to sanction the space, locals have taken it upon themselves to reclaim the space for a variety of purposes: a dog park, an exposed studio for some of the Bay Area's most impressive steel sculptors and graffiti artists, and residence to a homeless population. In the spirit of the space, the book contains found objects from the site: plant life, recycled materials, and debris, as well as the pieces of trans-generational metals that merged together form the cover. The book uses the storage book format to house a short story of the same title printed by type writer on to sheets of vellum.
One of a kind. Email for pricing.
**Important Update: The Albany Bulb residents are currently fighting the city to avoid being evicted. At the time this project was created, the security of the bulb's population was tenuous but not as urgent as it now seems. The book now serves as a documentation of a vanishing space, riddled with dumpsters to "clean up" the art and debris in the area (the city seems to be making no distinction between the two). Please support the residents of the bulb in their fight to keep this space open to all.