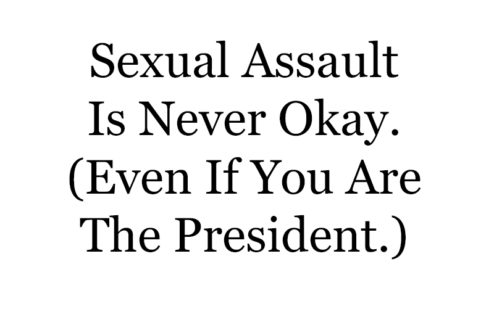 DO NOT GRAB ME BY THE ANYTHING

In the wake of the election, it has been a tense time for survivors of sexual assault and for women who worry about becoming victims of rape and forced sexual contact. Stories have swept social media of women being grabbed in parking lots and on train platforms, of survivors who are scared to leave their homes or be alone, of street harassment, molestation and groping fueled by the rationale that if our president can do it, so can anyone. It is time to push back against this behavior and tell the country that SEXUAL ASSAULT IS NEVER OKAY.
SURVIVORS YOUR VOICE IS NEEDED
On Nov. 26th at ATA Gallery in San Francisco, I will be performing a piece called Invisible Weight in which I confront the reality that every 109 seconds a person in the United States is sexually assaulted. I am asking survivors to share their experiences and their messages of hope and solidarity with other survivors in their own words. I realize this is a hard ask. But in light of the misogyny and comments normalizing sexual assault voiced by Donald Trump, I feel it is more important than ever to break the silence about the very real effects sexual assault and rape have on ourselves and our communities. I hope you will join me in raising your voice and speaking out against sexual assault at this crucial time in our country's history.
100% ANONYMOUS, AS MUCH OR AS LITTLE AS YOU WANT TO SAY

All submissions are anonymous unless you choose to state your name. Your words will be shared during the performance and the performance will be recorded. Please only participate if you feel comfortable and empowered by doing so. If you are in need of crisis counseling or other resources, please call RAINN at 1-800-656-4673
TO SHARE YOUR EXPERIENCE
To submit your response please visit http://vocaroo.com/ and record your responses to the following questions in a single voice loop. If you have experienced sexual assault more than once, you may submit more than once but please create a separate voice loop for each experience. Please email the voice loop to: MirabelleJones@Gmail.com
In as few or many words as you feel comfortable sharing, please describe your experience with sexual assault.
What would you like to say to your fellow survivors?
If you feel more secure doing so, you can also record your message using any audio recording software and email it as an attachment to mirabellejones@gmail.com.
If you are speech impaired and would like to participate in this project, please email me for details.
Vocaroo removes audio files from their database every couple months. If you would like to delete your file sooner, please include that in your notes and I will write you back to let you know I received your submission and you can delete it manually.
YOU ARE INVITED
If you are going to be present in the Bay Area on November 26th, I invite you to be present the day of the performance from noon to 6pm at the ATA Window Gallery 992 Valencia St. in San Francisco.
WHO IS DOING THIS
My name is Mirabelle Jones and I am a performance artist based in San Francisco and Los Angeles. For two years, I have worked as a crisis counselor helping survivors find counseling and other resources.
This performance is in conjunction with Art Against Assault, an organization which seeks to produce survivor-led art projects to raise awareness about sexual assault and rape as well as funding for resources. If you are a survivor and an artist who would like to participate in an Art Against Assault fundraiser or project, please email us.